Forged Aluminum Benefits
The aluminum forging process is used in applications where performance and strength are critical requirements. Aluminum forged components are commonly found at points of stress and shock. Forged aluminum is ideal for applications where performance and safety are critical but a lighter-weight metal is needed for speed or energy efficiency.
The challenging and harsh environments necessitate structures that are strong and durable, but also lightweight. Forged aluminum's low density relative to steel makes it an ideal candidate for a variety of applications.
Cerro can be your one-stop-shop for all of your aluminum forging needs. We heat treat in house to such tempers as T6, T651, T73 among other custom recipes.
Cerro purchases 100% of its aluminum material from domestic sources.
Cerro can also determine if your billet made part is a good candidate for a conversion to a forging. The net shape of a forging can extensively minimize machining.
We typically forge 2014, 6061 and 7075 series alloys, but have the capability to forge more unique 6000 and 7000 series materials.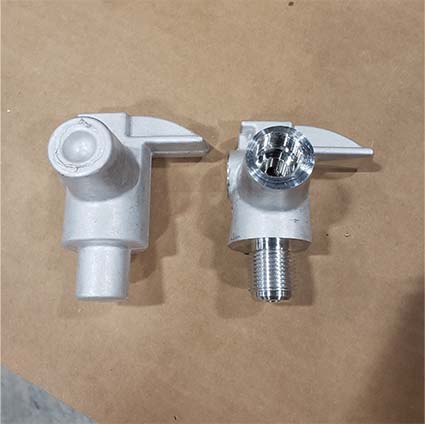 Common Parts Forged in 2014 Aluminum
Valves Bodies
Actuators
Brake Calipers
Runway Light Covers
Rail Round Structural Components
Aircraft Seat Components
Common Parts Forged in 6061 Aluminum
Motorcycle Parts
Shock Assemblies
ATV Suspensions
Snowmobile Suspensions
Brake Levers
Floorboards
Crossbow Risers
Munitions Casings
Breathing Valves
Electrical Floorplates
Fire Hose Couplings
Storz Heads
Fire Hose Bale Handles
Common Parts Forged in 7075 Aluminum
Aerospace Components
Aircraft Fittings
Crossbow Bow Risers
Bike Components
Mountain Climbing Gear
Safety Tie-Down Hardware